Lisa Herman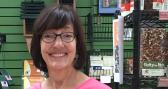 We're passionate about birds and nature. That's why we opened a Wild Birds Unlimited Nature Shop in our community.
Cherry Hill, New Jersey
Classic Plaza Shopping Center,
1619 N. Kings Highway
Cherry Hill, NJ 08034
Phone: (856) 428-1200
Fax: (856) 428-1370
Email: Send Message
Store Hours:
Mon - Fri: 10:00 am - 6:00 pm
Sat: 10:00 am - 5:00 pm
Sun: 11:00 am - 4:00 pm

Comments:

Join our Peeps
Join our Peeps Text List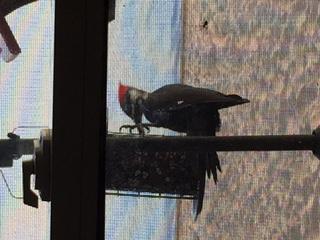 A "Postcard" from Michigan
Lisa (WBU Cherry Hill owner and downright good person) had the joy of watching a Pileated Woodpecker (look how big it is! It's jointed tail is propping under the feeder) clamp on and enjoy on of our Supreme Seed Cylinders. Even her "barking ankle biters" couldn't scare him away.
While we can't promise YOU'LL have Pileated at YOUR cylinder feeder (not impossible in our area, but unlikely), we ARE confident you'll have many other birds excited about our cylinders!
Next time you're in, check out our cylinders, our new cylinder feeder options, and our adorable new seed cylinder characters!