If you enjoy observing vegetation and when plants bud and blossom, visit the National Phenology Network. Once on their website, learn how YOU can help in their efforts to chart vegetation trends.
Check out how Cherry Hill is "greening' up and becoming a sustainable township! Visit their web site to see what they're doing, what YOU can do, and what's going on locally to make significant changes in how we utilize while protecting our environment!
Visit the Cornell Lab of Ornithology to help identify nearly 600 species of North American Birds.


Visit Saddler's Woods...first thru their website, then on foot!
A treasure trove literally in our backyard...check out Palmyra Cove Nature Park!
The North American Butterly Association (NABA) hosts a Butterfly Count-- an ongoing program to census the butterflies of North America (United States, Canada and partially Mexico) and to publish the results. Volunteer participants select a count area with a 15-mile diameter and conduct a one-day census of all butterflies sighted within that circle.



The Animal Welfare Association (AWA), is a non-profit organization providing shelter for orphaned animals, low-cost spay and neuter services, pet assisted therapy and humane education for the community since 1948. For more than fifty years, AWA has been committed to the prevention and eradication of animal suffering. Each year, more than 9,500 animals receive care through AWA programs.



Saddler's Woods is a 25.8 acre, old growth forest fragment which provides a good example of what the landscape of Haddon Township looked like when European settlers arrived. Today, over a thousand visitors every year enjoy the woods for volunteer activities, tours or simple passive recreation.



The Audubon Wildlife Society is a great group for people in the south Jersey region to meet and discuss environmental issues of the surrounding area.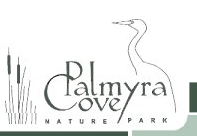 Palmyra Cove Nature Park (PCNP) is 250 acres of green in a highly developed area on the Delaware River just south of the Tacony Palmyra Bridge. With its woodlands, wetlands, tidal cove and wild river shore line, PCNP serves as an important feeding site for migratory birds.

The NJDEP's Division of Fish and Wildlife has posted the Raptor Reports for 2008 on its website. These reports contain information regarding the status of several of New Jersey's raptor species including the Bald Eagle, Peregrine Falcon and Osprey. Information includes species background and current status, nesting success, and research and management efforts.