Lisa Herman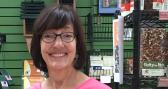 We're passionate about birds and nature. That's why we opened a Wild Birds Unlimited Nature Shop in our community.
Cherry Hill, New Jersey
Classic Plaza Shopping Center,
1619 N. Kings Highway
Cherry Hill, NJ 08034
Phone: (856) 428-1200
Fax: (856) 428-1370
Email: Send Message
Store Hours:
Mon - Fri: 10:00 am - 6:00 pm
Sat: 10:00 am - 5:00 pm
Sun: 11:00 am - 4:00 pm

Comments:

Join our Peeps
Join our Peeps Text List
...introducing NutraSaff Safflower
(so great we want to call it "Super Saff"!)
What makes it so special?
40% thinner hull (which makes it instantly more appealing to a larger variety of birds)

15% more oil

25% more protein

30% more fat (which translates into more energy)

specially bred, but not a GMO

easier to extract and digest (higher energy source, less work)

still generally unappealing to squirrels, grackles, and blackbirds