Lisa Herman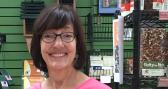 We're passionate about birds and nature. That's why we opened a Wild Birds Unlimited Nature Shop in our community.
Cherry Hill, New Jersey
Classic Plaza Shopping Center,
1619 N. Kings Highway
Cherry Hill, NJ 08034
Phone: (856) 428-1200
Fax: (856) 428-1370
Email: Send Message
Store Hours:
Mon - Fri: 10:00 am - 6:00 pm
Sat: 10:00 am - 5:00 pm
Sun: 11:00 am - 4:00 pm

Comments:

Join our Peeps
Join our Peeps Text List
Check out these popular links!
The Hummingbirds are coming! Watch their migration progress here. It's time to get your nectar feeders out...stop by and ask for our free nectar guide (it'll remind you of the recipe and changing frequency)
Looking for something to do this spring? Consider visiting Duke Farms in Hillsborough, NJ (a little over an hour drive from here). Check out their site for more information.
The National Arboretum in Washington. DC also hosts an Eagle Cam (how appropriate!) at http://www.eagles.org/dceaglecam/
Do you use Bark Butter? Check out theBark Butter Bird List to see which species find it irresistable!
So many of you enjoy the live feed we often have playing. You can enjoy them at home, too! Click here to go to Cornell's list of cams available.
Ever wonder how a humingbird sips? Check out this link, and be sure to scroll down to the video!